It's show time!
Ford v. Ferrari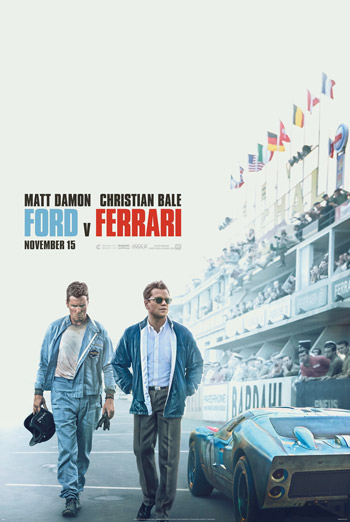 Academy Award-winners Matt Damon and Christian Bale star in FORD v FERRARI, based on the remarkable true story of the visionary American car designer Carroll Shelby (Damon) and the fearless British-born driver Ken Miles (Bale), who together battled corporate interference, the laws of physics, and their own personal demons to build a revolutionary race car for Ford Motor Company and take on the dominating race cars of Enzo Ferrari at the 24 Hours of Le Mans in France in 1966.
Get a FREE Medium Popcorn when you purchase your tickets to Ford v. Ferrari – click for details
Starring: Christian Bale, Matt Damon, Jon Bernthal, Noah Jupe, Tracy Letts, Josh Lucas, Caitriona Balfe, Remo Girone, Ray McKinnon
Directed by: James Mangold
Genre: Action
Duration: 152 min
Tickets can now be purchased for the Kingston IMAX showing of Ford v. Ferrari and St LAC invites you to do just that for Thursday, November 14th, 6pm at Landmark Cinemas.  Afterwards, the regular suspects will adjourn to Boston Pizza (across the Street) to ooh and ahh and fondly reflect on the best moments of the movie and why Matt Damon should play Robin in the next Batman movie.
Please feel free to let us know that the good news is that you plan to attend by sending a note to st.lac.club@gmail.com